This cute and adorable pet is a brown 
Dachshund
, with the nose, paws and heart shaped patch with an arrow in the hind leg is pink. Her eyes are green with white dots and have a heart-shaped glitter.
Generation: 2
Family: Friendliest (the most friendliest)
Year: 2008
Sold: Valentine Lot 2008 Target
​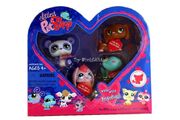 Ad blocker interference detected!
Wikia is a free-to-use site that makes money from advertising. We have a modified experience for viewers using ad blockers

Wikia is not accessible if you've made further modifications. Remove the custom ad blocker rule(s) and the page will load as expected.