Hasbro us as partner Corgi another adorable puppy, this time a
Dachshund
. It is reddish brown, with the tips of the legs and tail dark brown, like her muzzle and her circular drawings she has in her ears and head. Her eyes are light blue, they're surrounded by thin black lashes.
Generation: 2
Family: Fanciest (the finest)
Year: 2008
Sold: Couples, with the Littlest Pet Shop # 639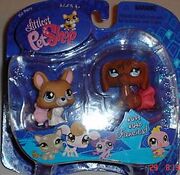 Ad blocker interference detected!
Wikia is a free-to-use site that makes money from advertising. We have a modified experience for viewers using ad blockers

Wikia is not accessible if you've made further modifications. Remove the custom ad blocker rule(s) and the page will load as expected.