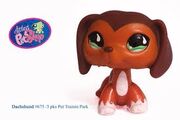 The hair of this Dachshund is clear brownish color with hints of orange. Her legs are white, like the hair of the neck, while the top of the head and ears have them completely brown. Her eyes are a beautiful green.
Generation: 2
Family: Sportiest (most sports)
Year: 2008
Sold: In a pack of 3 with the Littlest Pet Shop 673 and 674
Ad blocker interference detected!
Wikia is a free-to-use site that makes money from advertising. We have a modified experience for viewers using ad blockers

Wikia is not accessible if you've made further modifications. Remove the custom ad blocker rule(s) and the page will load as expected.