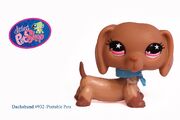 The dachshunds are hot like this, and if you tell it not to short haired cat who accompanies her in the pack of the numbers 932 and 933. This Dachshund is brown, with a realistic look and darker brown tone at the end of her paws and tail. Her eyes are equipped with a nice pink and under this line the same color but of greater intensity.
Generation: 2
Family: Happiest (the happiest)
Year: 2009
Sold: In Pairs Laptops with the Littlest Pet Shop number 933.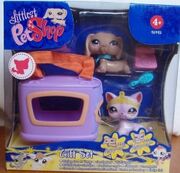 Ad blocker interference detected!
Wikia is a free-to-use site that makes money from advertising. We have a modified experience for viewers using ad blockers

Wikia is not accessible if you've made further modifications. Remove the custom ad blocker rule(s) and the page will load as expected.